There is a crack in everything
– that´s how the light gets in!
Welcome! I am glad you found me!
I am Sissi, Embodiment Coach and trauma informed therapist – I am passionately committed to supporting individuals to get quicker results in transforming anxiety, physical fatigue and mental exhaustion (in order o thrive in the here and now!
My work includes empathetic touch using The Pantarei Approach as well as elemts of the Non Violent Communication ©, Somatic Experiencing und IFS (Internal Family Systems)
Experience the somatic approach:
Embodiment Workshops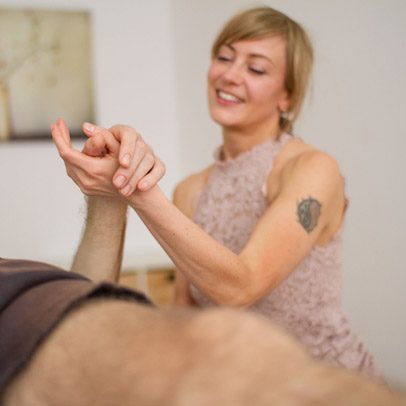 1:1 Sessions
Embodiment Trainings
Do you suffer from:

LOW SPIRITS
STRESS
PMS
SLEEPING DISORDER
CHRONIC PAIN
ANXIETY
… and are looking for:
VITALITY + JOY
EMOTIONAL BALANCE
HOLISTIC APPROACH
RELAXATION
FREEDOM FROM PAIN

FOCUS + A SENSE OF PURPOSE
Then somatic therapy might be right for you!
What clients say:
"So happy with the results, thank you, Sissi: ensions have eased, my creativity started flowing again after a long period of doubt, and the work opened my eyes to new possibilities!"
Eleonore De Liedeke
Artist and Aromatherapist
"The sessions with Sissi were just amazing! After her sessions I felt much more energized and could literally feel the flow of energy so that I could focus on my own work again."
Yunyun Qiu
Online Marketing Consultant
"A great break during the busy work week! I felt so blessed during and after each session."
Thomas Jakel
Entrepreneur
"Pure relaxaton and an amazing way to find serenity during my stressful every day life!"
Alex Freise
guitarrist at "Ten Times a Million"
---
C U R I O U S?
book your 20-30min trial session right here: